Then…
I first came to Mendocino in 1976. After graduating college with a degree in theater and no idea what to do with it, I'd decided I couldn't survive one more Ann Arbor winter. I bought a used Dodge van, added a foam/plywood bed, orange shag carpet, and India print curtains. I tossed in my favorite antiques and my Irish setter and set my sites on California. An ex-boyfriend had been writing me from Mendocino, trying to convince me that it was the ultimate California destination. He said he'd hitchhike to St. Louis to meet me at my mom's and drive back out with me. No doubt he had hopes for us, but I had fallen hard for my best friend, who at that point in her life, couldn't imagine herself a lesbian.
By the time Ray showed up, two days late with a German shepherd puppy, I'd given up on him altogether and had promised the navigator seat to my 14-year-old brother. We ended up all going, on what my brother would later call the "trek of starvation."
When we finally arrived in the sleepy, foggy village of Mendocino, I was dreaming of a hot shower and a place to spread out, but when I asked Ray where he lived, he pointed to a dirt-streaked, moss-splattered Rambler parked on a side street, filled with car parts and garbage bags.
All along, I'd just assumed he had a place to put me up for a while. In all fairness, I suppose he assumed I was still straight. We quickly parted ways and never saw each other again. Mendocino, however, which was a sleepy, foggy artist community back then, will always have a special place in my heart.
Now…

Today Mendocino is still full of artists and hippies, but it has grown considerably and has become an expensive weekend destination for Bay Area professionals. Most of its early century houses have been nicely renovated and turned into B&B's or restaurants. But even the influx of tourists can't squelch the charm of this historic coastal village. It has such a New England feel, in fact, that both "The Summer of '42" and the "Murder, She Wrote" TV series were filmed here under the pretense of an east coast setting.
Kate, Kelly, and I drove back up to Mendocino on Sunday, leaving Bella and Bailey to fend for themselves in the RV a few hours. The twists and turns were much easier to handle in our car, but still managed to give Kelly, who was in the backseat, a good case of car-sickness.
In Mendocino, we had lunch in a trendy bakery café, then wandered the streets, in and out of shops, and soaked in the ambiance. It wasn't a long visit, but worth the drive to introduce Kelly to a favorite place of ours.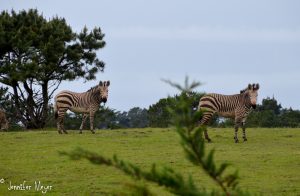 On the way back to Linda's land, just a few miles from her place, we happened to notice a field to our left filled with zebras. Yes, zebras! There was no place to pull over, but Kate slowed to a crawl, then let me out to get photos. There were dozens of zebras and at least three giraffes in some sort of animal preserve.
We arrived back at the land at the same time as Linda, just as a hard rain hit. In our teardrop, rain means going to bed early. How nice to have such a spacious, water-tight RV to all congregate in, heat up left-overs and play games.