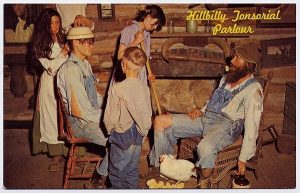 When I tell people I was born in Arkansas, they often do a subtle double-take, raise an eyebrow, and scrutinize me with this new information in mind, as if I'd just revealed I was really a different race or had been raised by Carmelite nuns. When people in distant states think of Arkansas (and they rarely do), they think moonshine and hillbillies, racial segregation (the Little Rock Nine), the middle school mass shooting in Jonesboro (my birth town), poverty, ignorance, and backwoods meth production ("Winter's Bone"). "My family moved north before I could talk," I always say to explain the lack of twang in my accent.
I was surprised on this trip to find so much I liked about Arkansas. We drove through beautiful countryside: rolling green hills with patches of red clover, airy pine woods, burbling streams. And although we did notice a vast difference from the pristine farms of Pennsylvania (new meaning to "junk yard"), there are some great spots to visit in Arkansas.
Last spring we loved exploring the historic mountain town of Eureka Springs (see Eureka Springs post), and on a day trip from Missouri, we went to a world-class art museum in Bentonville (see Bentonville post). This time through we took several days to see some new places. We toured a historic village in Washington, dug for diamonds, and toured an old bathhouse in Hot Springs. Our first stop is covered in this post.
Historic Washington State Park
Off a two-lane road in Southwest Arkansas, one of the oldest towns in the state has been turned into a village museum. Established in 1824 on the main road to the Southwest, this town became a major stopping place for pioneers heading to Texas. During the Civil War, it was housed a military hospital and was even the Confederate Capitol for a while. In 1973, Arkansas State Parks took over management of the town's buildings from a restoration foundation and opened it to the public. Anyone can walk around the quaint town, where 81 residents still live. For an $8 wristband lets you in to numerous buildings in town for tours by costumed guides.
The wristband was well worth it. Michael was our guide for three of the houses. We instantly recognized him as "a friend of Dorothy's," but he seemed so sheltered that we weren't sure he even knew he was gay. He described his shocked sadness when one of the other guides informed him that slaves were often treated badly, even viewed as livestock! His naivety was touching, though, and he had an earnest, open heart.
We also visited a blacksmith shop, where a real local blacksmith demonstrated his trade and showed off some replica Bowie knives he'd made. (The original knife used by Jim Bowie in a famous duel was crafted here in Washington by James Black in the early 1800s.) We went to a print shop that included all kinds of unusual printers and typewriters, including an old Linotype machine. As a union typesetter in the late 70s, I heard lots of talk from the old-timers about these clunky but revered typesetting machines. They were the first to automatically produce metal plates of type from molten metal. We also got a loom lesson from a woman in pioneer dress at the historic tavern inn.
Late in the day on a Thursday, we were the only tourists wandering the village, so we had the focused attention of guides, and it was a peaceful stroll through the town. The place is set up to accommodate large crowds, though, with lots of picnic areas and a historic restaurant serving lunch. I can imagine this place swarming with school kids on a field trip or families in the summer. I preferred having the town to ourselves.
Walmart in Nashville
Just north of Washington is Nashville, Arkansas. You won't find country music singers here, but there is a Walmart, and that's where we chose to spend the night. This was actually our nicest Walmart setup so far. It was a large quiet parking lot, and we parked right next to a green field full of cows and watched the sunset from the coach.